Footnotes
Oshala ~ reference from a poem of the Ogbehunle Odu, "The Consequences of Overzealousness in Prayer, Or How the Eye Got Its Pupil," recited by Alawonifa Animashaun Oyedele Ishola of Oyo for Wande Abimbola, Sixteen Great Poems of Ifa (1975, UNESCO, Paris), p.362-387 and p.460.
Drawing of Obatala at right by Alan Crichton 1995
Oko ~ Robert Farris Thompson, Face of the Gods: Art and Alters of Africa and the African Americas (1993, The Museum for African Art, NY), p.161
eko ~ Thompson, ibid, p.154
Ajaguna and Obamoro ~ ibid, p.165
Ochos ~ ibid, p.187
Alter of Obatala ~ ibid, p.263
Praise song of Obatala Verger per Thompson ~ ibid, p.262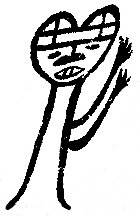 Obatal&aacute
Obatalá is the kindly father of all the orishas and all humanity. He is also the owner of all heads and the mind. Though it was Olorun who created the universe, it is Obatal who is the creator of the world and humanity. Obatal is the source of all that is pure, wise peaceful and compassionate. He has a warrior side though through which he enforces justice in the world. His color is white which is often accented with red, purple and other colors to represent his/her different paths. White is most appropriate for Obatal as it contains all the colors of the rainbow yet is above them. Obatal is also the only orisha that has both male and female paths.
from the OrishaNet - http://www.seanet.com/~efunmoyiwa/ochanet.html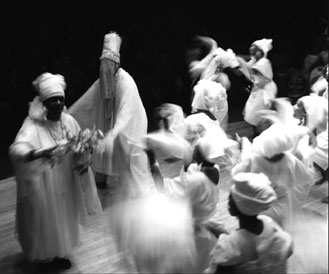 Top of page
Obatala Index
Arthur Hall's Obatala
Return to ILE IFE