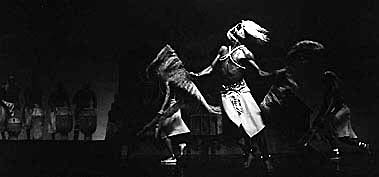 AADE dance Watusi
Photograph gift of Elizabeth Roberts
to the Collection

Bulletin Board
Guestbook Postings
and other public correspondence
with individual e-mail links



From Michael Friend (Kambui Nyhahuma)
I studied with Arthur Hall and the drummers of Ile Ife for approximately 10 years. It was a great influence in my life. I now live in Maryland and have a performing arts company, Soul In Motion Players, Inc. I've been writing plays since 1989, and my latest piece is entitled Ile Ife-House of Love. We are going to tour it beginning Fall 1997. The Arthur Hall site is beautiful ... and it now gives the world a chance to see what I've been telling folks about Arthur Hall and Ile Ife for all my life. The teachings I learned in 1969 from Arthur have made me the person I am today. God Bless you, Arthur.
Michael Friend (Kambui Nyhahuma)
President
Soul In Motion Players, Inc.
http://www.us.net/simpinc

From Ancester@aol
Subject: Beautiful

Alafia,

This is my first visit to your web page. It is beautiful. Thank you for your efforts.
Chief Olubikin of Ile-Ife:

Good job.

Necessary for people
in this country to see
the "cradle of civilization."

Keep sharing and we will win.

Fasina's Temple Home Page

Artnet Ifa

From Chester King
Afrocuban News
I love your page. I was particularly excited to see you folks had done a production of Ladipo's Oba Koso. I have brought that text to Cuba, to groups such as Afrocuba de Matanzas, which produce their own bata operas in Yoruba and Spanish, mixed. I have a home video of one of these, which I believe evolved independently from Ladipo, as he was unknown in Matanzas ...
Peace,
Chester

From Dr. Michael W. Conner
author of Cutting to the Essence:
I heartily congratulate you on a fine and elegantly designed site. I learned a great deal more about African American dance and its cultural influences by exploring it.

... your incorporation and citation of my pages do meet with my approval ... I am pleased that you have found a way to interweave and expand upon their usefulness. In fact, this is always what I had hoped would happen with this material -- that it would help other scholars and Internet writers provide a more academically precise and illustrative underpinning for the presentation of African art in its various manifestations.

The parallelisms in the Oba Koso &amp the end of Ile Ife section made your point, and I thought they were outstandingly consistent with the contradictions inherent in the legend of Sango and his suicide ...

From Blues City Cultural Center
Memphis, Tennessee
Hello Arthur! You're as stunning on the internet as you are in person! You have one of the best home pages I have ever seen, best relative to education, organization of information, creativity ... I was knocked over by what I saw! Your picture says it all!

Many thanks for including Blues City in your information. The gang ... says hello and keep in touch. We are excited about what you are doing. Don't stop ... God is good ... Love and Peace to One Who Sees Through Stone.

From William Richard Jones, CCP
author of The African American Web Connection:
A link has been added to both the African American Entertainment and African American Organization sections of the African American Web Connection (AAWC).
I truly love your site. I've bookmarked it on my personal PC browser.

From W. Perkins Foss IV, Ph.D.
art historian

nice job

From Carol and Kofi Egbo
Urhobo Society of Michogan:

Subject: Urhobo costume

We are an Urhobo family transplanted here in the U.S. (actually one of us is Urhobo and one a very devoted Urhobo-by-marriage!). We are educators working in the area of African studies. We stumbled across the beautiful Urhobo Festival costume at your site. Our local group, the Urhobo Association of Michigan, will be thrilled with our find! Thank you for including our ethic group! We are most pleased!

Subject: Water Spirit Festival

We are members of the Urhobo Association of Michigan, an Affiliate of the Urhobo Association of North America. We happened upon a beautiful graphic of an Urhobo Fesitval costume at your website. As a Nigerian minority ethnic group, it was a bit of a surpise to see such a wonderful reflection of our group. Now, we understand you have a video of a dance based on the Water Spirit Festival. This is of special importance to us because it appears that you use many (could it be over 300????) children in the dance. We are currently trying to form a dance group of our own children here in the Detroit area. This video may be just the inspiration we need to get our group off on the right foot. Could you please send us information about it ?

From Osunniyi
Of the PRUDENTIAL:
Subject: Alafia

Saw your 'ASHE' on Niemark's guestbook. Where are you located? I'm a daughter of Osun, and I'm located in New Jersey. I am interested in communicating with other people interested or initiated into the religion.

Odabo, Osunniyi

From Chris Foss

Great Job ...

Return to Ile Ife