The Funeral Procession
by Ellis Wilson from the collection at the
Amistad Research Center hello bruce
longtimeno hear from i hope everything is fine.
i have some bad news to tell you.
Curtis Redding has pass away on June 26, 2001.
He was fighten sickness for the last 5 yrs.
give me a call sometime. 1800-523-0960 ext 108 9to5pm

mike
peace

The Ile Ife Memorial Dance Concerts of 1995 were in memoriam

Ms. Sallie Hall
Cherie Bushey ~ Madeline "Mickey" Murphy Capadanno
James Corry, Sr. ~ John Henry Cottman ~ Eliza Dixon
Syvilla Fort ~ Doris Franz ~ Eileen &amp Michael Janssen
Anthony "Tony Beans" Johnson ~ Penelope Komliki
Beverly Pedolsky ~ Ruth M. Perry ~ Pearl Primus
the honorable David P. Richardson, Jr.
Hattie &amp Thomas Singleton ~ Raliegh Stanwood ~ Joan Tvarian
C. Edward White ~ Alfred Dawson "Bud" Williams, Jr.
Joseph "JoJo" Williams ~ Lavinia Williams
Since then we add Rita's mother Mary Magdalene Cottman
Arthur's drummer Adam Smith
James's mother Eloise Corry
Dorothy Cark of Philadelphia
Patrice's little friend Karen Carter, age 9
Lauge Christensen
John Anderson
F. Sean Parretta, president of the Minority Arts Resource Center
Arthur's teacher Marion Cuyjet
Elizabeth Roberts - Mama Liz
Mama Yaya
Helene Master
The spirits of all these people inform Arthur Hall's Requiem.
C. Edward White, lovingly known as Eddie to his many friends and admirers, was born a twin of the late Mary Johnson White and George White. He died suddenly of heart failure.

A life-long Philadelphian, Eddie was employed by the Bureau of Employment Security for the Commonwealth of Pennsylvania until his retirement in 1979. He was a kind man, good to every man, woman, and child that he met, and well known and loved by many people, both personally and as a performer. He had a beautiful voice and sang in several choral groups throughout Philadelphia. For over twenty-five years he was a principal dancer and wardrobe master of the Arthur Hall Afro-American Dance Ensemble, touring Africa, Europe, the Caribbean, and the continental United States with the company.

Eddie was a dominant presence on stage, both for his prodigious physical bulk and for the abundant, joyous spirit which emanated from his good soul. He performed in every major production of the Dance Ensemble, including Orpheus, A City Called Heaven, and Fat Tuesday &amp all that jazz, and he continues to grace most of the films in the Arthur Hall Collection. His droll humor backstage and his loyal friendship to Arthur Hall are also major contributions to the success of the dance company. In his eulogy for Eddie, Nana Affoh said, "I see him now in great white billowing robes dancing for the Creator of us all... Dance on, Eddie, dance on through eternity. Weep no more, Achampong..."

He is survived by two brothers, George and Herbert, a sister-in-law Leah, nieces, nephews, cousins, and a host of friends and admirers. The service in his remembrance began with Samuel Barber's Adagio for Strings and continues.
Return to Top of Page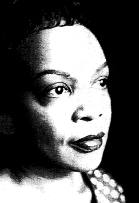 Sally Yancey Hall
October 23, 1916 - June 24, 1995

Sallie Hall was the daughter of Emma Jo and Albert Yancey of Stanton, Tennessee. She lived in Memphis, Washington, DC, and Philadelphia, returning to Memphis late in life, where she died of heart failure, peacefully at home. She leaves a son, Arthur Hall, three sisters, Katie Wade and Annie Rose of Memphis and Gracie Dawson of Washington, two brothers, Leroy Yancey of Memphis and Thomas Yancey of Stanton, Tennessee. Her ashes were committed to the Mississippi River by her son Arthur.



I thank God for giving me a Mother who gave me a Gift that has carried me through this world. When I think of my Mother, I will think of the mighty Mississippi River that continues to roll on.

Peace and love, Mother,
Your only child,
Arthur

Mary Magdalene Cottman


April 5, 1916 - September 17, 1995
Mary Magdalene Cottman, affectionately known as Nana, died peacefully at home with her family by her side after a brief illness. The daughter of John and Nancy A. Beasley of Trenton, New Jersey, she moved to Philadelphia in the early 1930s where she became a pieceworker at the Quartermasters of the Navy Yard. Mrs. Cottman retired as an employee of the Defense Personnel Support Center after more than 15 years of dedicated service. She was an active member of the Philadelphia Senior Center, where she was on the Senior Advisory Council to the Board of Directors. She enjoyed line dances and was an avid pinochle player.

Mary Magdalene was married twice, first to John H.F. McClarin, who died in 1944. In 1951 she married the late John Henry Cottman. They had one daughter, Rita in 1954. From their home in Southwest Philadelphia, she became an active mother, encouraging her daughter from an early age to take dance classes and to perform in recitals. Rita eventually became the first Miss Black Teenage Pennsylvania, an original member of Philadanco, the Philadelphia Dance Company, and a continuing member of the Arthur Hall Afro-American Dance Ensemble since 1970. For over thirty years Mary Magdalene rarely missed one of her daughter's performances, the true definition of a mother and a Nana. Mary Magdalene Cottman is sadly missed by her daughter Rita Cottman Johnson, her grandson Donald Pinner II, her devoted son-in-law Tyrone Johnson, her nieces and nephews Edwin Bey, Dorothy Shuford, Nancy White, Mary Frazier, and Vivian Williams, and a host of other family and dear friends.
Return to Top of Page

Return to Top of Page
Last update June 1998
Return to Ile Ife