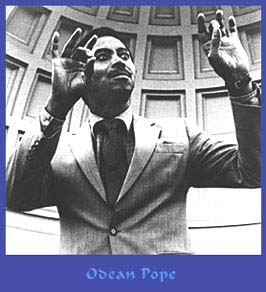 Odean Pope



Composer - Arranger
Director - Tenor Sax
Flute - Oboe
Bass Clarinet - Piccolo
Piano





I tried to imagine what it would sound like
if I played at the bottom range of my instrument
like Coltrane played at the top.

Resume | Discography | Program notes
Odean Pope Trio | Saxophone Choir

music director ~
And the Children Danced
with John Blake, Jr.
co-director

The CDs for this project ~

Epitome

The Saxophone Shop

The Ponderer

The Odean Pope Trio
Just tenor sax, up right bass, and drums, the pianoless trio offers you nothing
but the raw, compressed essence on the music.



ninety-six ~ anja CD 9091-2

gift to the Arthur Hall Collection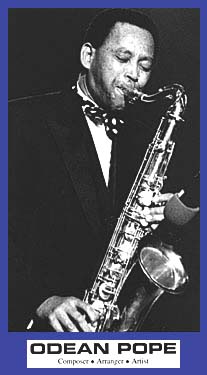 Odean Pope Saxophone Choir
Nine saxophones, piano, bass, and drums,
the larger ensemble offers you many choices,
including the sound of a big band,
a saxophone orchestra,
and a gospel group.



Epitome The Saxophone Shop The Ponderer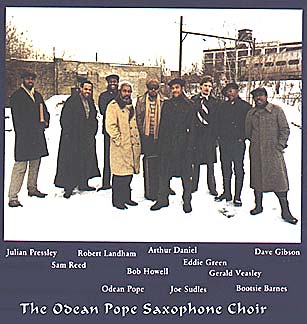 Odean with Max Roach ~

Pictures in a Frame


Chatahoochee Red


In the Light


Scott Free


Easy Winners


Bright Moments


To the Max!



Odean Pope
8320 Pickering Avenue
Philadelphia PA 19159

215-242-6202

hm
215-242-2510 fax

Professional experience
1997 most recently returned from Dartmouth College, playing with Hafiz
1996 European tour of Odean Pope / David Murray Quintet
1989 Italian tour with Max Roach Quartet featuring Dizzy Gillespie
1985 artist in residence, Cuyahoga Community College, Cleveland, Ohio

with Clark Terry, Jaki Byard, and Louise Bellson

1979 - 1983 artist in residence, Amherst College
since 1979 with Max Roach Quartet and Double Quartet
1978 with Dr. Billy Taylor, conducted symposium at Settlement Music School, 1976 - 1979 woodwind instructor, band director for Settlement Music School

and Better Break Music Camp, Philadelphia

1971 - 1976 Model Cities Cultural Arts Association, Music Department
Music education

1990 - 1992 most recently studied with Ronald Ruben of the Philadelphia 1983 - 1984 studied African rhythms Be-Bop art forms with Professor

Kenny Clarke of the Conservatory of Paris

1965 - 1968 studied privately with Mr. Fred Gerber of the New Orleans

Symphony and Dallas Symphony

1958 - 1960 symposia and concert series, University of Pennsylvania

with director and conductor James DePreist
Artists I have performed with ~




Sam Rivers, Mickey Roker, Archie Shepp, Grachan Moncur,
Bobby Durham, Clark Terry, Tooty Heath, Lee Morgan,
Billy Paul, Al Grey, Chet Baker, Jimmy DePreist,
John Coltrane, McCoy Tyner, Jimmy Garrison,
Elvin Jones, Rachell Ferrell, Grover Washington,
Reggie Workman, and Jimmy Smith.





Awards
1991 - 1992 Pew Fellowship in the Arts
1992 Rockefeller Award
City of Philadelphia, Citations 1985 and 1994
Cleveland Community College
North Sea Jazz Festival, #1 tenor saxophonist
Afro-American Historical and Cultural Museum


Selected discography
Epitome (Soul Note #121279-2) tenor saxophone
Ninety-six (Enja CD 90912) tenor saxophone
Collective Voices (Cadence CIMO#124) tenor saxophone
The Ponderer (Soul Note #121229) tenor saxophone
Saxophone Shop (Soul Note #121129) tenor saxophone
Out for a Walk (Moers Music #02073) tenor saxophone
Almost Like Me (Moers Music IC#6059) tenor saxophone


with Max Roach
In the Light (Soul Note SN-1053), tenor saxophone
Chattahoochee Red (CBS 7464-37376-1), tenor saxophone, alto flute, oboe
Scott Free (Soul Note #1103) tenor saxophone
Bright Moments (Soul Note #1159) tenor saxophone
To the Max (Mesa/Bluemoon R279164) tenor saxophone
Easy Winners (Soul Note #1109) tenor saxophone
Itís Christmas Again (Soul Note #121153-2) tenor saxophone
JazzBUHNE Berlin (Repertoire 4902cc) tenor saxophone
Pictures in a Frame (Soul Note #121003) tenor saxophone

Uptown String Quartet
(PolyGram 422-838358-1) composer of "Overture"

with Bill Cosby
Where you lay your head (PolyGram 422-841930-2) tenor saxophone

Odean Pope moved from South Carolina to Philadelphia at age ten. Both his parents were musicians, and he soon grew to take part in the cityís active music scene, working as a saxophonist for soul and r&ampb bands that came to town, including Stevie Wonder, Gladys Knight, and the Temptations. He played with such jazz greats as Clark Terry, Dizzy Gillespie, and Jimmy McGriff. The legendary piano player Hasaan Ibn Ali was a main influence on the young Odean. He started working with drummer Max Roach as early as 1957, and in the 1980s came to prominence as a member of both the Max Roach Quartet and the Max Roach Double Quartet.

Odean Pope was a music director for the Model Cities Cultural Arts program (1971 - 1976), conducting the orchestral music for the full length ballet Orpheus (1973) with the Arthur Hall Afro-American Dance Ensemble. For many years Mr. Pope has been active as an artist in residence in schools and colleges, receiving many honors and awards for his teaching and his performances. In 1992 he received a Pew Fellowship in the Arts and a commission from the Rockefeller Foundation.

Some very fine tenor saxophonists have come from Philadelphia, men like Benny Golson, Jimmy Heath, John Coltrane, and Grover Washington, Jr. Odean Pope continues in this great tradition. Indeed, his first big break was a gig inherited in 1955 from his friend and mentor John Coltrane, also a Carolina native moved to Philly. "When Coltrane went with Miles, he gave me his gig with Jimmy Smith at a club downtown, Spider Kellyís. He gave me a lot of encouragement," recalls Mr. Pope.

Popeís music always speaks of a deep soul combined with a sophisticated intellect. As a composer, he sometimes works with odd or shifting meters, but in doing so, he obtains strong and true emotions. As a player, he has techniques which incorporate both the traditional and the experimental, including multiphonics, clusters of overtones produced by false fingering, and circular breathing, a technique common in Africa and Asia, urging blurs and bleats of sound with a unique sonority. "I tried to imagine," Pope once said, "what it would sound like if I played at the bottom range of my instrument like Coltrane played the top."

"I think what I got from John the most was dedication and consistency," he says. For many years, Odean has been concentrating on just two musical formats -- the trio and the saxophone choir -- with the latter being closest to his heart, perhaps because it is closest to his earliest musical influence, the Baptist church of a small South Carolina town. "From my earliest memory, it was always a lot of big choirs and a lot of singing." The trio offers the raw, compressed essence of the music, while the choir offers all the range of a big band, a saxophone orchestra, and a gospel choir. As a leader, Odean Pope sticks to these two formats only, and that tells you a lot about this artistís dedication and consistency.

~ Hans-Jurgen Schaal, notes for ninety-six (February 1996), and
~ Kirby Kean, Down Beat (June 1996)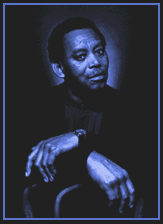 Alaine Brunet, La Presse
Montreal, 12 July 1993



Odean Pope un sommet!
[Eng.] Odean Pope a summit!
Voila ... Le saxophoniste tenor Odean Pope, ses huit excellents souffleurs ...
Jazz modal coltranien, references antillaises [Eng. ... Caribbean airs], be-bop plus conventionnel, improvisation libre, cris et barrissements [Eng. ... screams and bellows], polyrhythmic, recherche harmonique lorgnant le futur de la musique improvisee ... Notwithstanding, of course, that of the chief himself, Odean Pope, a notorious post-Coltranian, always demonstrating a husky lyrical sound that doesnít hold back on generosity ... En ce qui me concerne, le veritable concert de cloture en salle.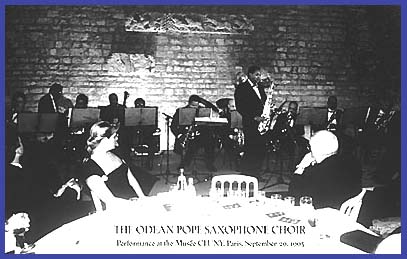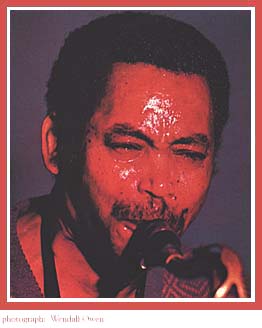 Odean on the WWW



Directory of Jazz and Blues Discographies

Karl B's page

Directory of Jazz and Blues Discographies

The French Riviera ~ sound clips


Jazz World ~ with Max Roach


Gallery 41 ~ photograph


And the Children Danced

Music and Dance Links

Return to top of this page

Return to Ile Ife