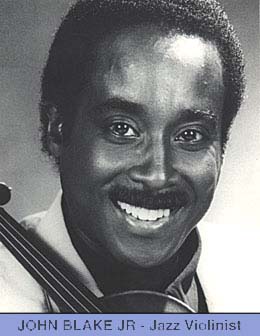 John Blake, Jr.
jazz violinist
composer | band leader
teacher | music director
visiting artist
biography | school programs
selected discography | awards
Jazz Improvisation Made Easy




Mr. Blake rides those vamps like a master.
He also knows how to pace a solo so that it builds
to crest after crest, with an oratorical sense of timing.
Jon Pareles
New York Times




John Blake, Jr.
is the state of the art
of jazz violin




and music co-director
with Odean Pope of

And the Children Danced

One of the most captivating extra-musical aspects
of Blake's performance was the utter lack of pretension
or contrived inaccessibility. Virtuoso that he is, he came off as
a musician who cared about communication.
Edgar Koshatka
Philadelphia Inquirer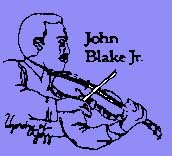 John Blake, Jr.
352 West Berkley Street
Philadelphia PA 19144
215-849-5262

The John Blake, Jr. Mainpage - johnblakejr.com

John Blake, Jr. is arguably the one person most responsible for putting the jazz violin on the map. A native of Philadelphia, he began studying violin in elementary school, continued his studies at the Settlement Music School in that city, and received a full scholarship to West Virginia University, where he received a Bachelor of Music degree in 1969. He also studied at the Institute for Advanced Studies in Montreux, Switzerland and was awarded a grant to study East Indian music in the early seventies.

John Blake, Jr. first gained international recognition in the mid-seventies as a sideman for the Grover Washington, Jr. Band. The group was one of the first to successfully cross over from jazz to rhythm and blues, with John Blake's violin playing a major role in that success. In 1975 he composed the score and performed in the full length ballet A City Called Heaven with the Arthur Hall Afro-American Dance Ensemble. He also spent five years with McCoy Tyner's band, strengthening his skills in improvisation and firmly establishing himself among the top jazz violinists of his generation.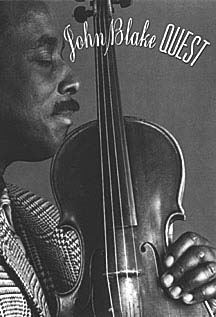 In the 1980s, Mr. Blake made his debut as a band leader, recording five discs with Gramavision. His most recent album, Quest, was released on Sunnyside in 1992, and includes two cuts with legendary saxophonist Grover Washington, Jr. Quest is an intimate, straight ahead celebration which searches out new directions and gives new life to old melodies, most notably Mr. Blake's outstanding arrangement of Charlie Chaplin's song Smile. Other musicians featured on Quest are Joe Ford, Charles Fambrough, Ben Riley, Omar Hill, and Joey Calderazzo.
John Blake is a member of the faculty of both the University of the Arts in Philadelphia and the Manhattan School of Music in New York. A musician's musician, he is also active as a visiting artist, presenting solo lectures and workshops, working in duets and trios, quartets and quintets. With his sister Charlotte Blake Alston, Mr. Blake presents a delightful program of jazz and storytelling for all ages, featuring the story How Raccoon got his Dinner. With Susuki violin teacher Jody Harmon, Mr. Blake is co-author of JIME: Jazz Violin Made Easy, a book with an accompanying tape now being used in the Philadelphia school system and receiving rave reviews throughout the string community.

"As a composer and arranger, he has a strong personal vision," writes Jim Roberts in Down Beat. "Blake is an unabashed melodist, although certainly not a sentimental one." The John Blake, Jr. Quartet features Sumi Tonooka on piano, Leon Jordan on drums, and Chico Huff on bass. The John Blake Jr. All-star Quintet features the musicians of the Quest recording, Joey Calderazzo on piano, Joe Ford on saxophone, Charles Fambrough on bass, and the legendary Ben Riley on drums.

Mr. Blake also works as a duo with any one of several musicians, including Henry Butler, Joey Calderazzo, Avery Sharpe, Victor Gaskins, and Dave Holland. With Philadelphia's legendary music man Odean Pope, Mr. Blake is co-directing the music for And the Children Danced, a one-hour television special about the thirty year history of the Arthur Hall Afro-American Dance Ensemble. Over the years, he has performed as a guest artist with the Duke Ellington Orchestra, the McCoy Tyner Trio, the Billy Taylor Trio, and the Turtle Island String Quartet.

Awards

The Young Lions
one of seventeen exceptional young musicians
Carnegie Hall Kool Jazz Festival, 1982


full scholarship
West Virginia University, 1965 - 1969


four time winner, "talent deserving wider recognition"
Down Beat Critic's Poll


three times voted one of two top jazz violinists
Down Beat Magazine Readers Polls, 49th, 50th, 51st




Blake's violin repeatedly soars like someone going up and down steps
-- without faltering -- at supersonic speeds.
Bondo Wyszoplski
The Argonaut



Programs for presenters and educators


The John Blake, Jr. Quartet
Concert halls

educational jazz concerts
programs in schools

chamber music

clubs
John Blake, Jr violin

Sumi Tonooka piano
Leon Jordan drums

Chico Huff bass



The John Blake, Jr. All-star Quintet
Concert halls to clubs
John Blake, Jr violin

Joey Calderazzo piano

Joe Ford saxophone
Charles Fambrough bass

Ben Riley drums



John Blake Solo
Solo violin, standards to original compositions
classes, workshops, lectures, and school assembly programs



John Blake Duos
explore the violin with just one other instrument
with Henry Butler

Joey Calderazzo

Avery Sharpe
Victor Gaskins

Dave Holland


Storytelling and Jazz
usually a trio with my sister Charlotte Blake Alston
How Raccoon got his Dinner
The story of Anniko
The Flintstones



Jazz Improvisation for Strings
rhythm

call and response

major scales
beginning improvisation for early and advanced string players



History of the Violin in Black Culture
African roots

plantation fiddle

the violin in Blues
Swing

Be-Bop

Post Be-Bop and other modern forms
exploring the styles of the great jazz string players
who developed the art


background suggestions
Louis Armstrong trumpet, bandleader
Dizzy Gillespie trumpet
Charlie Parker saxophone
Duke Ellington piano, composer, bandleader
Lionel Hampton xylophone, bandleader
Ella Fitzgerald vocals
Billy Holiday vocals
Benny Goodman clarinet bandleader
Max Roach drums bandleader
Art Blakey drums bandleader
Bobby McFerrin vocals
and use your own favorites!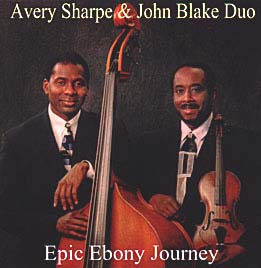 Selected Discography



Most recently ~ April 1997
with Avery Sharpe



Epic Ebony Journey


as leader



Quest - Sunnyside SSC 1058


A New Beginning - Gramavision 18-8808


Adventures of the Heart - Gramavision 18-8705


Twinkling of an Eye - Gramavision 18-8501


Maiden Dance - Gramavision GR 8309



John Blake takes advantage of his leadership debut by offering
a varied and intelligently conceived collection of music
Will Smith
Omaha World Herald






with McCoy Tyner



Horizon - Milestones M-9094


NY-Montreux Connection - Columbia FC 37652


La Leyenda de la hora - Columbia FC 37375




with Grover Washington, Jr.



Live at the Bijou - Kudu KUX 3637M2


Reed Seed - Motown M7 910R1


Baddest - Motown M9 940A2


Paradise - Electra 6E182




with Archie Shepp



Attica Blues - Impulse AS-9222


Cry of My People - Impulse AS-9231




with James Newton



James Newton - Gramavision GR 8205


Luella - Gramavision GR 8304


African Flower - Blue Note BT 85109




with others



7 in 7 out - Rainbow RR2010


The Young Lions ~ at Carnegie Hall - Elektra/Musician 60196-1


Love Survives ~ Jay Hoggard - Gramavision GR 8204


Flying Out ~ Cecil McBee - India Navigation In 1053


Children of the Fires ~ Marvin Peterson - Sunrise 1944


A Tear and a Smile ~ Catalyst - Muse 5069


Unity ~ Catalyst - Muse 5042


Unlock the Funk ~ Locksmith - Arista AB4274


The String Summit ~ One World in Eight - MPS 0068.275


You are my Starship ~ Norman Connors - Buddah 0698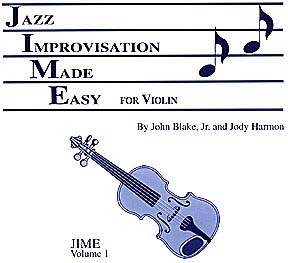 John Blake, Jr. and Jody Harmon
JIME
Jazz Improvisation Made Easy
(1993)


JIME for Violin with CD - $23.95


JIME for Violin with Cassette - $19.95


Quantity discounts - contact JIME

PO Box 196, 301 Littleton Road
Westford MA 01886
phone/fax 508-692-0617
email JodyJIME@aol.com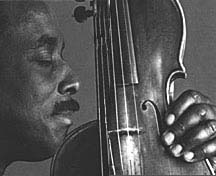 John Blake is a warm and effervescent performer who seems destined to be a force in jazz for many years to come ~ he is the best new jazz violinist of the decade

Russell Shaw
Billboard



Return to top of this page

And the Children Danced

Music and Dance Links to the WWW

Directory of Jazz and Blues Discographies

Return to Ile Ife