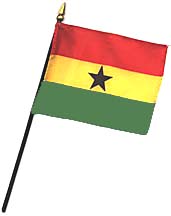 13 September 1997

Mr. Kingsley Karimu, Head of Chancery
Embassy of Ghana
3512 International Drive NW
Washington DC 20008

Dear Sir:

I have had the good fortune throughout my long career as a teacher and choreographer to have had close associations with several outstanding Ghanaians and Ghanaian institutions. Among my first mentors in the 1950s was Mr. Saka Acquaye, who was a direct inspiration for the formation of my first company, the Afro-American Dance Ensemble of Philadelphia. We toured Ghana in 1974, performing before the Ashantihene and several other village chiefs. Mr. Enimil Ashon has written of that tour (Arthur Hall Links It All Up, Weekly Spectator, Accra, January 12, 1991):


... for me, [it] is the greatest thing that happened to Ghana's Volta Agbadza and the northern Nagla. I saw him and his group do these two (and other) dances in Kumasi in 1974, and since then all theatrical performances of these two dances by all Ghanaian groups have been pale shadows ... Such was the gusto; such was the vibrancy; such was the eloquence with which Arthur Hall and his group did these dances in 1974 ...


I was privileged to return to Ghana in 1991 as part of the American Dance Festival's Linkage Program as an artist in residence at the University of Ghana in Legon, working with Mr. F. Nii-Yartey and the Ghana Dance Ensemble. On this occasion, the Ga Manse for the first time gave his support to a program of modern dance in Ghana. Mr. Nii-Yartey issued a Certificate of Appreciation, which among other things says, We hope that you will return to continue where you left off. Upon my return to America in 1991, I was able to arrange the gift of a theatrical fog machine to the Ghana Dance Ensemble.

Through the years Ghanaian culture has been a great inspiration to me, and my repertoire has always included dances learned from Mr. Acquaye and from Mr. John Eshun, a royal Fanti drummer. The old Afro-American Dance Ensemble first presented a program called Accent Ghana in the early 1980s at the Smithsonian Institution in Washington DC, and now I am reviving the title and some of the dances with a new company here in the State of Maine. Accent Ghana in Washington was a celebration of our roots as African Americans. Accent Ghana in Maine is an expression of cultural and ethnic diversity, a celebration of traditional Ghanaian culture by people of several ethnic backgrounds, and an attempt to close the gap of under-standing which may still linger between the peoples of our two countries.

The traditional cultural minorities in Maine are the French and the Irish, although there has been a small population of free blacks and escaped slaves here since colonial days. More recently, we have growing refugee populations from southeast Asia and from central Africa. Our local culture is therefore not as homogeneous as is often assumed, and we are in fact quite reflective of the nation as a whole.

Our production of From Africa to America: Accent Ghana will be presented in two shows next month in the Opera House of Rockport, Maine. It will be performed by a company of children and adults who reflect our larger society. The program includes both traditional and modern dances, and our music director Mr. Kwabena Owusu is a native of Ghana.

We would be honored to have a representative of the Embassy of Ghana as our guest for the two concerts on October 17 and 18, and we would be very pleased if your representative would address a few words to our audiences about the culture of Ghana. I have no doubt that your embassy would appreciate the work we have been doing here, and that our audiences would appreciate hearing from you directly. We could also then discuss the possibility of the company's visiting Ghana and the cultural implications of the International Dance Center both here for Ghanaians and in Ghana itself.
Yours in the Cause of the Arts and Humanities,

Arthur Hall





Accent Ghana

Return to Arthur Hall Presents
Return to Ile Ife