Arthur Hall presents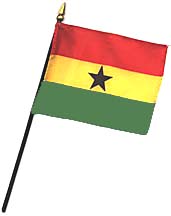 From Africa to America
Accent Ghana
October 17 & 18, 1997
Rockport Opera House
Rockport, Maine





Arthur Hall International Dance Center
Arthur Hall, founder and artistic director
Bruce Williams, photography, poster, program, producer
Patrice A. Janssen, concert manager
James Williams, stage manager
Alice Hunt, house manager
Cathy Butler-Corish, dance instructor
Erma Colvin , dance instructor
Dagney Ernest, publicity
Will Neils, sound technician
Jip M. Pruden, sales and funding
Martine Toulouse, costumes for Gadzo and Hyena
Roland Toulouse, swords for Gadzo

Dancers
John Asuncion, Meg Barclay, Cathy Butler-Corish, Erma Colvin
Dagney Ernest, Arthur Hall, Patrice Janssen, Jon Jennings, Angela Keith
Lisa Morgan, Martine Toulouse, Bruce Williams, Van Williams

Children's Ensemble
Jed Chambers, Jacob Filderman, Isaac Gerard, Freya Levett, Nathan Morgan
Shannon Orcutt, Angus and Noah Pfister, Sophia Salas, Elizabeth Tripp

Drummunications Music Ensemble
Kwabena Owusu, music director
Dan Cummings, Arthur Floyd, Stu Gillam, Jennifer Harris, Craig Schoppe





Guest Artists

Van Williams
of the Arthur Hall Afro-American Dance Ensemble of Philadelphia

Martin Steingesser

Patti Luchetti

Deb Irons

Kwabena CHAN AnsaPilsqehSis

Mkerhe
Meg Barclay, Erma Colvin, director, Dagney Ernest, Kat Gifford
Jon Jennings, Lisa Morgan, Martine Toulouse

Jobo Kunda
Gray Parrot and Christine Covert

Stella Dance Theatre
Shana Bloomstein, Joan Proudman, Karen Tvarian
with special thanks to guest dancer Lisa Newcomb for Fatal Spell

Sisters in Spirit
Maria Armstrong, Barbara Bourgoine, Chris Colpitt
Linda Dunmon-Green, Mary Fernandes, Jennifer Harris, Kwabena Owusu

- the program -

Overture
Seche - Jeleje - Kpanlogo
Sisters in Spirit
with Drummunications Music Ensemble

Gadzo
Warrior's dance of Ghana
Arthur Hall, choreography
from the original of Albert Opoku, University of Legon
- the company -

Adua - Kete
Classic king's dances of Ghana
Arthur Hall, choreography
Arthur Hall, solo

Lost Journey
Arthur Hall, choreography
- the children's ensemble -

Tigare
The witch chaser - ubiquitous to West Africa
Arthur Hall, choreography
from the original of Saka Acquaye
Van Williams, solo

Agong
The power in a woman's hands
Arthur Hall, choreography
from the original of Saka Acquaye
Cathy Butler-Corish, solo

Hyena
Arthur Hall, choreography
from the original of Saka Acquaye
Jon Jennings and John Asuncion

Masquerade
The Moon and the Sun - Ghana
Arthur Hall and Van Williams

Kinka
Drummunications Music Ensemble

Hankitow
Social dance of Ghana
Arthur Hall, choreography
from the original of John Eshun
- the company -

- a brief address -
Kingsley Karimu
Head of Chancery
Embassy of Ghana
Washington DC


- intermission -

Wade in the Water
Sisters in Spirit

Stole and Sold from Africa
Linda Dunmon-Green, solo

Liberte
A dance of slavery and freedom
Erma Colvin, choreography
Mkerhe

The Heart of the World
An old Hassidic story told by
Martin Steingesser


His Eye is on the Sparrow
Arthur Hall, improvisation in memoriam
C. Edward White - Adam Smith
Joseph Williams - Nana Okomfohene Oparebea
Marvin Gaye, music

El Jarabe Tapatio
traditional Mexican
Patti Luchetti, solo

Cuban Medley
Erma Colvin, choreography
Mkerhe

Madrigal (Friday only)
choreography by Stella
Stella Dance Theatre
Patti Smith, music

Fatal Spell (Saturday only)
Joan Proudman, choreography
Stella Dance Theatre
with Lisa Newcomb, guest dancer
Big Audio Dynamite, music

Jobo Kunda
Music of the Gambia
Gray Parrot, Kora

Deb Irons
Jazz/Blues Improv


Red, Yellow, Black and White
First Translation
choreographed and performed by
Kwabena CHAN AnsaPilsqehSis
music - Underworld by J. Mitchell
I first became a student of Arthur Hall in 1978
and gratefully acknowledge the impact this relationship has had on my life and work.
I believe that this undeniable strength and survival of traditions and artforms
that have come to us through the diaspora have a universal source.
Red, Yellow, Black and White (First Translation) is an homage to that source
and to the man responsible for my introduction to it,
Nana Afo Arthur Hall.
- Ch, October 17th, 1997

[Addendum: CHAN, born Anthony David Spotten on May 14, 1957, died in 2005 from HIV-AIDS. To the last, he was an artist and activist, loved by all who knew him.]



Lord, Don't Move My Mountain
Karen Tvarian, choreography
Stella Dance Theatre
Mahalia Jackson, music

Rock of Ages
Arthur Hall, choreography
for the Sacred Dance Guild Festival '97
first performed July 15, 1997 at Lake Junaluska, North Carolina
- the company -
The Mountain Remains the Same.
Mankind constantly changing;
The Hill upon which I cast my Eyes
The Mountain, like God, Remains the Same.
We are the Mountain,
We are the Rock.
Everything changes, yet Remains the Same.
And David Danced before the Lord with all his Might.

I am the Lord of the Dance, said Christ.

Dance! Dance!

Everybody Dance!
- AH, July 1997

- exeunt -

Return to Ile Ife