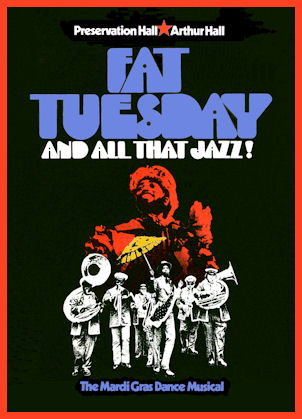 Dejan's Olympia Brass Band from Preservation Hall of New Orleans, Louisiana
The Arthur Hall Afro-American Dance Ensemble of Philadelphia, Pennsylvania
Fat Tuesday
and all that jazz!
Original concert tour presented by the Tennessee Performing Arts Foundation, 1977
"In Performance" at Wolf Trap produced by WETA Public Television, Washington DC
Digitally remastered by the Arthur Hall Collection, 2009-2012 (1:23:14 in 7 scenes)

Staging and Choreography
ARTHUR HALL

Musican Direction
ALLAN JAFFE

Staging and Producer
WESLEY O. BRUSTAD

Scenic Design
ALLAN TRUMPLER

Costumes
ELIZABETH ROBERTS

For WETA Public Television
CLARK SANTEE, Director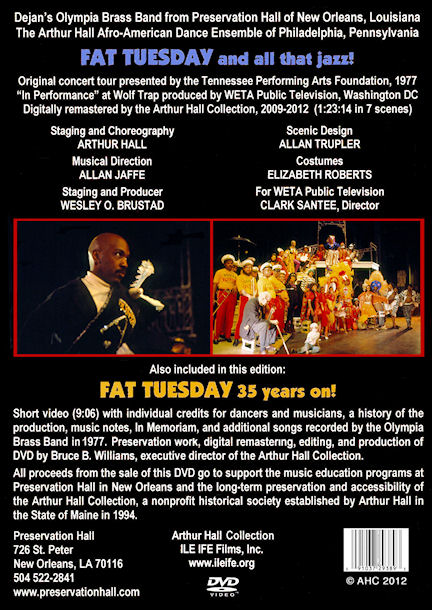 Also included in this edition:
Fat Tuesday
35 years on!
Short video (9:06) with individual credits for dancers and musicians, a history of the
production, music notes, In Memoriam, and additional songs recorded by the Olympia
Brass Band in 1977. Preservation work, digital remastering, editing, and production of
DVD by Bruce B. Williams, executive director of the Arthur Hall Collection.
All proceeds from the sale of this DVD go to support the music education programs
at Preservation Hall in New Orleans and the long-term preservation and accessibility of
the Arthur Hall Collection, a nonprofit historical society established by Arthur Hall in
the State of Maine in 1994.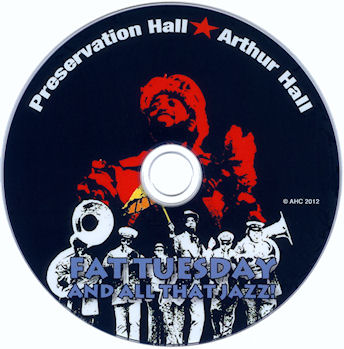 DVD available for purchase online from Preservation Hall
Preservation Hall
726 St. Peter Street
New Orleans, LA 70116
Arthur Hall Collection
ILE IFE Films, Inc.
www.ileife.org
Copyright AHC 2010
This DVD edition and preservation masters in analog and digital formats
have been made with materials provided by Wesley O. Brustad in 2008 and 2009.

Fat Tuesday World Premiere - February 10-19, 1977
War Memorial Hall, Nashville, Tennessee
See tour schedule in chronology of 1977

Original Program Credits
1977 performances
The Arthur Hall Afro-American Dance Ensemble
of Philadelphia, Pennsylvania
and
Dejan's Olympia Brass Band from Preservation Hall
of New Orleans, Louisiana



The Tennessee Performing Arts Foundation presents
Preservation Hall ~ Arthur Hall
In the new Mardi Gras Dance Musical
Fat Tuesday and all that jazz!
Wesley O. Brustad,

producer
Carol Newton, assistant producer
Arthur Hall, staging and choreography
Allan Jaffe, music director

Musicians of Preservation Hall
Milton Batiste, lead trumpet, vocals
Kid Sheik Colar, trumpet
Harold Dejan, saxophone, vocals
Edmond Foucher, trumpet
Nowell Glass, bass drum
David Grillier, clarinet
Allan Jaffe, bass horn
Benjamin Jaffe, beggar
Andrew Jefferson, snare drum
Gerald Joseph, trombone
Anthony Lacen, bass horn, Mardi Gras Indian
Frank Naundorf, trombone
Emanuel Paul, tenor saxophone
William Russell, violin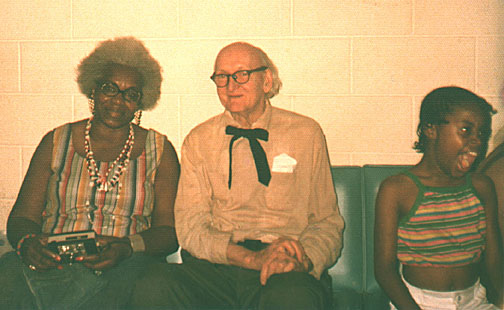 Elizabeth Roberts and William Russell with Nsia, the Indian Princess
Ruby Batiste photograph

Cast
St. Elmo McKelvey, King Zulu
Arthur Hall, Grand Marshal
Anita Henry, Queen Zulu
Elizabeth Roberts, Madame of the Baby Dolls
[This credit is not accurate for the Wolf Trap performance.
Elizabeth Roberts actually plays the Queen of the Mardi Gras Indians,
among other rolls.]
Carol Schley, Baby Doll
Delphine Mantz, Baby Doll
Ruth Mills, Baby Doll
Sharon Ingram, Baby Doll
Betty Aldridge, Mamie Desdoumes (Hustling Woman)
Shirley Myles, Mimi Pechet (Lover)
Thomas Myles, Kid Bunky (Lover)
Norman Mills, Benny Black (Gambler)
Evangeline Brown, Marie Laveaux (Voodoo Queen)
C. Edward White, King of Street Vendors
Ronald Payton, Father St. John
James Crawford, Spirit of Mardi Gras
Lamont Brunson, Spy Boy
Oswald Wallace, Chorus
Luther Aldridge, Chorus
Ronald Chapman, Chorus
James Marshal, Chorus
Farel Johnson, Shoe Shine Boy
Steve Jackson, Shoe Shine Boy
Clarence Schley, Shoe Shine Boy
Cindy Struthers, Queen of the Mardi Gras Indians
[This credit is not accurate for the Wolf Trap performance.
Nsia Cyndi Strothers (proper spelling) is the Indian Princess.
Elizabeth Roberts is the Queen of the Mardi Gras Indians.]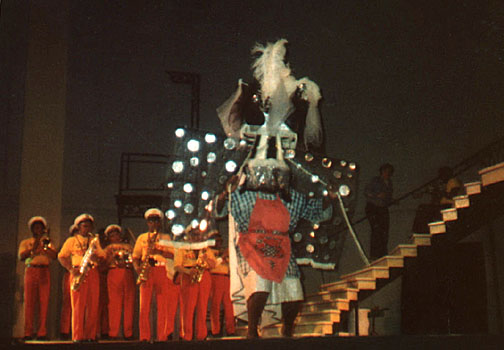 Ruby Batiste photograph

Arthur Hall Afro-American Dance Ensemble
Carol Schley, choreography for Baby Dolls
Farel Johnson, dance company master drummer
Alan Trumpler, scenic design and construction
Elizabeth Roberts, costume design and construction
C. Edward White, dance wardrobe master
Lillian Avery, wardrobe mistress
David K. H. Elliott, stage manager
R. Michael Holden, company manager
Oswald Wallace, dance company manager
Roscoe Smith, property manager
George Calvert, carpenter
Cornell Cooper, electrician
Thomas Priest Teasley, publicity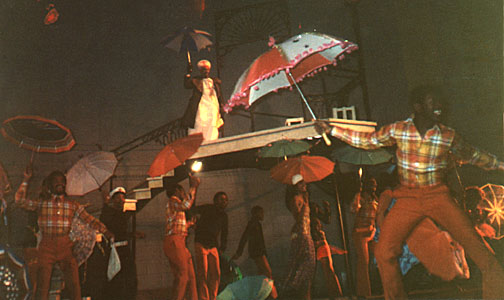 Ruby Batiste photograph

1997 performances and 1998 performances
Muntu Dance Theatre of Chicago

Arthur Hall | The Arthur Hall Collection | Ile Ife Films