NOTE: This page was created c. 1996 and most links are now dead.
It is retained for graphics and for historical interest.
Roll over van Gogh
give Picasso the news ~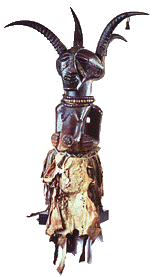 Africa
The Art of a Continent
at the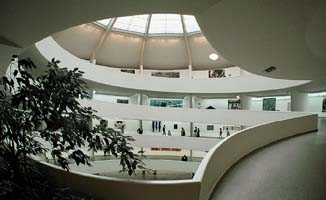 Guggenheim Museum
Fifth Avenue @ 89th Street
Opening June 7, 1996
Opening attended and reviewed by
W. Perkins Foss IV and Arthur Hall

Africa... includes more than five hundred sculptures, murals, ceremonial objects, pieces of jewelry, and textiles, culled from collections around the world ...
Go directly to West African page
In/Sight
African Photographers
1940 to the Present


detail of photograph
by Samuel Fosso
ca.1977
... twenty-eight artists, from fourties studio portraits ... to more personal and experimental photographs from the eighties and nineties ... One section of the show focuses on pictures published by Drum, the influential magazine founded in South Africa in 1951 and subsequently published in Nigeria, Ghana, and East and Central Africa ...
Both exhibitions through September 29, 1996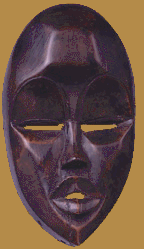 Dan mask

8 June 1996 thumbnail report from Perk Foss
[telephone conversation from Manchester NH airport, 8:00 AM]
Perk recommends the hardcover London edition of the catalog.
8 June 1996 thumbnail report from Arthur Hall
[conversation en route from Manchester, New Hamster to Searsport, Maine, 3:00 to 9:00 PM]
Arthur found the exhibition overwhelming, too much for one day, recommends scheduling three days. The photographic exhibition adds excess to excess. "Just when you think you've seen it all, you see you've just begun." Arthur thinks the plexiglass is perhaps useful to protect people from the power of pieces which are not museum art so much as living ...