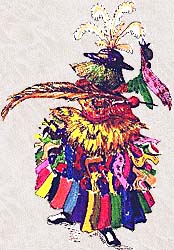 Water Spirit
Festival



Urhobo Water Spirit Festival costume
drawing by Vernon Forrest, inscribed



Water Spirit Festival

1989, 30 min, S-VHS video by Bruce Williams
Arthur Hall, choreography
Kpe Lee, music
with students &amp staff of the School Street School
and Sacred Heart Public School of Lebanon, New Hampshire

based on the field recordings of Susan and Perkins Foss
of an Uhrobo Water Spirit Festival in the delta region of Nigeria

Bruce Williams, camera, editor
Christopher Foss, second camera
Water Spirit Festival documents a remarkable recreation of an authentic Uhrobo Water Spirit Festival by three hundred and fifty children, kindergarten through third grade. The work is a result of the collaboration between art historian and teacher Perkins Foss and artist in residence Arthur Hall. One little kindergartner steals the show.

Water Spirit Festival
will be available on DVD in 2009


Please contact

The Arthur Hall Collection
754 Mount Ephraim Road
Searsport, Maine 04974

From the Urhobo Association of Michigan, an Affiliate of the Urhobo Association of North America:

We happened upon a beautiful graphic of an Urhobo Fesitval costume at your website. As a Nigerian minority ethnic group, it was a bit of a surpise to see such a wonderful reflection of our group. Now, we understand you have a video of a dance based on the Water Spirit Festival. This is of special importance to us because it appears that you use many (could it be over 300?) children in the dance. We are currently trying to form a dance group of our own children here in the Detroit area. This video may be just the inspiration we need to get our group off on the right foot.

Urhobo Water Spirit Festival costume drawing
by Vernon Forrest at top is inscribed to Elizabeth Roberts
as follows:


Mother of us all, Whose spirit you carry,
As the year goes by and many more to come,
May you be blessed for eternal life.
We the offspring
Grow from your feedings of
Unity and Tranquility.

Have a Festive
69th birthday,

Vernon




African Festivals in American Schools

Other videotapes for schools, libraries and private collectors

Ile Ife Films Index
Arthur Hall Presents Index
Arthur Hall Index
Arthur Hall Collection Index
Return to Ile Ife