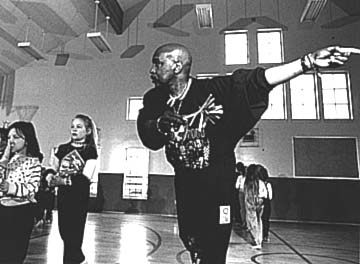 Tche Tche Kule
Arthur Hall's exercise tape
Arthur Hall, choreography
with children from all over, including
Townshend and Grafton Elementary Schools in Vermont
Lebanon, New Hampshire
Belfast and Kennebunkport, Maine

A work in progress
by Bruce Williams

Tche Tche Kule is a Ghanaian song that teaches children
to stay on rhythm, to count, and the differnet parts of the body.
Arthur teaches it wherever he goes, prompting one educatator to say
the song has become the national anthem of K-6.

Arthur plays it on Mister Rogers' Neighborhood
to a bemused Fred Rogers, who says,
"My, what a lively way to learn to count."


Aislinn Williams Dances With Joy
Ile Ife Films Index
Obatala Index
Arthur Hall Index
Arthur Hall Collection Index
Arthur Hall Presents Index