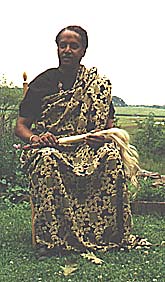 Van Williams first appeared on stage in 1953 at age six. He began working with Arthur Hall in 1964. Among his other teachers were Marion Cuyjet, Melvina Taiz, John Hines, and Jose Limon. Van also studied at the Philadelphia Dance Academy and the Philadelphia Music Academy, pursuing his interest in international folklore and dance, including Balinese, Greek, Russian, Indian, and West African, with a strong emphasis on the Ghanaian. He performed in the premiere of Jose Limonís The Winds.

With the Arthur Hall Afro-American Dance Ensemble Van was Nanaís assistant director for Accent Ghana at the Smithsonianís Discovery Theatre and its tour of the West Coast with the International Children's Theater Festival. He performed in Orpheus, Fat Tuesday and all that Jazz, and Farewell to a Cannibal Rage. He played Timi of the Flaming Arrow, first king of Ede in Oba Koso, among a long list of credits. In Maine, Van has performed with AADE at Colby College and the Sankofa Festival, and in both solo and ensemble pieces for Ile Ife Philadelphia Maine and The Rhythm of Life. In Philadelphia he has been central to continuing Nanaís repertoire, working in the 1993 MARCFest tribute to Arthur Hall as rehearsal director for Obatala, providing a strong voice and presence in the videotape Arthur Hall's Obatala.

Van is associated with many of the cultural groups with roots in Ile Ife, including the Jassu Ballet, the Egungun Festival, the ArficAmericas Festival, African Art in Motion, Cultural Alternative Dancers, and the Spirit of Sankofa Ensemble, among others. He is an all around artist working from a traditional African aesthetic and specializing in the creation and performance of masquerades. His current work in progress is a group of large scale egungun masquerades entitled The Source which focuses on images and symbols of the Great Mother.
Van Williams
1733 West Edgeley Street
Philadelphia 19123

215-235-2577
215-548-1468



Ancestral Spirits of Africa
A Fantasia of Egungun Masquerades Exhibit

Programs, Residencies, and Workshops