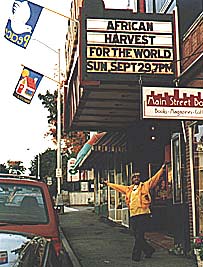 African Harvest

Grand Auditorium of Hancock County
September 1996

Camden Opera House
December 1996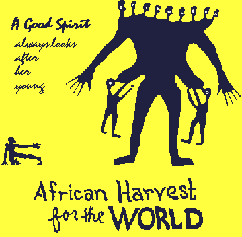 African Harvest for the World
7:00 P.M. Sunday, September 29, 1996
at the
Grand Auditorium of Hancock County
Main Street
Ellsworth, Maine
Press Release 10 September 1996 | Program 29 September 1996
Arthur Hall - artistic director
Christine Covert - concert manager | Jim Williams - stage manager
Patrice Janssen - treasurer | Bruce Williams - producer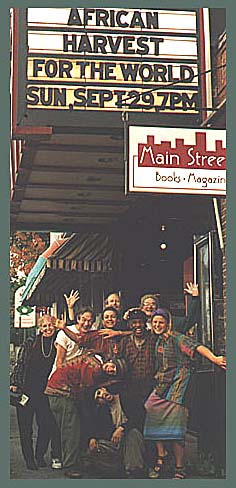 The Company
Dancers
Meg Barclay | Cathy Butler-Corish | Shana Bloomstein
Dean Buckley | Erma Colvin | Chris Covert
Dagney Ernest | Kat Gifford | Gail Gulick
Arthur Hall | Patrice Janssen | Cheryl Mitchell
Lisa Morgan | Martin Steingesser | Lynn Stone
Martine Toulouse | Bruce Williams | Van Williams
Musicians
Arthur Floyd | Phil Frey | Stu Gillam | Eric Horschak
Brandon Klarich | Gail McCullough | Asia Sikkila
Three Spirals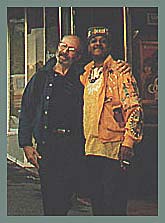 Masqueraders
Van Williams | Martin Steingesser
Dean Buckley

Special Guest Artists
Hawk, flute
The Taildraggers
Rick Bishop | Jim Rorden | Lauren and Trent Souter
Shalimar and Shatila
Patti Luchetti | Yosarian
Robinson Ballet
Kelley Holyoke | Maureen Lynch | Lauren Lynn
Jobo Kunda
Gray Parrot | Chris Covert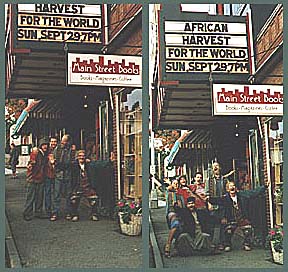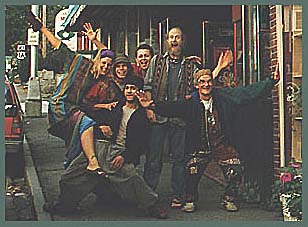 The Program
Overture
The Taildraggers
This Ground
Martin Steingesser
Fanga
Arthur Hall choreography
Liberia via the late Pearl Primus
Patrice Janssen, solo
Harvest Dance
Arthur Hall choreography
Ghana via Saka Acquaye
the company
Oriental Dance
Shalimar and Shatila
Patti Luchetti, solo
Sierra Leone
Arthur Hall choreography
via the National Dance Co. of Sierra Leone
the company
Snake Dance
Arthur Hall choreography
Arthur Hall, solo
Liberte
Erma Colvin choreography
the company
Masquerade
~ intermission ~
Kora Praise Song
The Gambia
Jobo Kunda
Gray Parrot, Kora
Stilt Masquerade
Ode to Yemaya
Arthur Hall choreography
In praise of the Great Mother
Van Williams and Cheryl Mitchell
Agong
Arthur Hall choreography
The Power in women's hands, sometimes used well,
sometimes not well, however it is used,
it will not go away.
Cathy Butler-Corish, solo
Celebration
Arthur Hall choreography
Guinea via Ballets Africains
Erma Colvin arrangement
the company
Flute Interlude
Hawk, solo
Yanvallu
Arthur Hall choreography
Haiti via Lavinia Williams
Erma Colvin | Patrice Janssen | Cathy Butler-Corish
EM~ELL~SEE
Kelley Holyoke choreography
Colman Hawkins music
Robinson Ballet
The Earth is a Satellite of the Moon
Heart and Drum
Martin Steingesser
Drummer's Choice
Stu Gillam and Co.
Finale
Arthur Hall choreography
from Dance Conga
Haiti via Lavinia Williams
the company

~ exeunt ~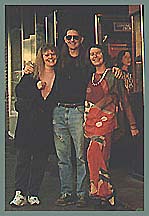 Dominant graphic A Good Spirit always looks after her young from an Asafo flag (Ghana).
See a related image from Adler in the Bibliography.
Arthur Hall presents
A Community Festival to Feed the Hungry.
Donations of dry and canned food items sought for the Loaves and Fishes Food Pantry
(an ecumenical relief organization) and the Emmaus Center for the homeless,
both of the Hancock County, Maine area.
Concert manager Christine Covert of Jobo Kunda School of Traditional Culture
cultural tours of the Gambia.
The Arthur Hall International Dance Company
Dance Captains
Patrice Janssen | Erma Colvin
Music Captains
Jeffrey Densmore | Jim Rorden

Tickets
$10 adults ~ $25 family ~ $7 chidren and elders
with suggested donation of food items

African Harvest
Camden Opera House
December 28, 1996
The Arthur Hall International Dance Company

Return to Arthur Hall Presents