Margo Blake in Mexico with William Whitfield to her right
Steve Jackson in background
Elizabeth Roberts photograph #3727, April 1982

Arthur Hall Collection
materials provided by
Rev. Margo Blake

July 27, 2009

Margo provided three programs and eight photographs
mostly related to the 1984 - 1985 tour of
Sweet Saturday Nite:

a program from Dance Black America (Delhi College) dated May 3 (1984)

a program from Chautauqua County Arts dated May 4, 1984

a flier from Lincoln Center Out-of-Doors with the program for Saturday, August 31, 1985

The schedule of programs lists Sweet Saturday Night opening August 6 through September 2
the AHAADE scheduled to perform from Tuesday, August 6, through Saturday, August 10, 1985

The schedule lists Les Ballets Africains du Guinee for Saturday, August 31
the engagement which was covered by the AHAADE
including a performance of Guinea Harvest, based on LBA's original.

six photographic prints, inscribed, and

paper copies of two photographs, also inscribed.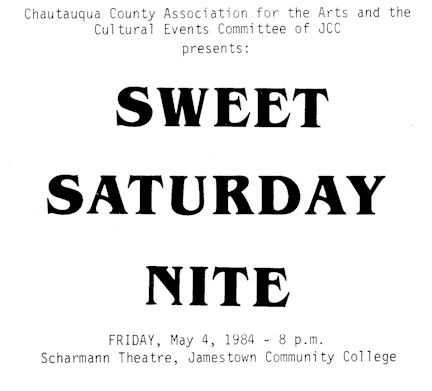 The 1984 tour of Sweet Saturday Nite through upstate New York was a collaboration among
the Arthur Hall Afro American Dance Ensemble
Mama Lu Parks Traditional Jazz and Lindy Dancers
tapdancer Chuck Green
and the Rudy Stevenson Band.
(See photographs below)
Personel listed in the 1984 programs: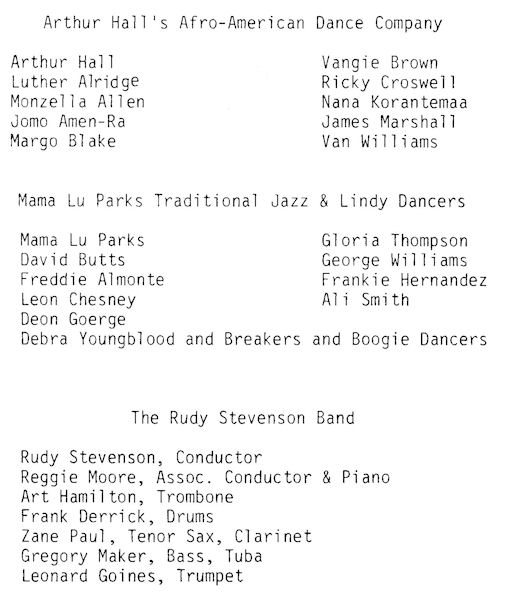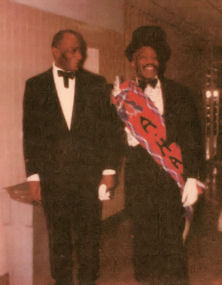 Tap dancer Chuck Green with Arthur Hall
backstage during 1984 tour of Sweet Saturday Nite
Upstate New York
(Margo0001a.jpg)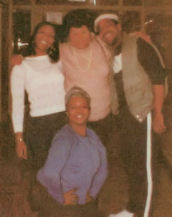 Kalilah Allen, Mama Lu Parks, Kofi Asante
and Evangeline Brown backstage
1984 tour of Sweet Saturday Nite
Upstate New York
(Margo0001b.jpg)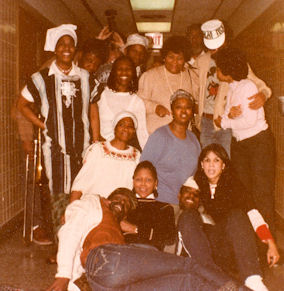 Top: Nana Korantema, Arthur Hamilton (trombone), Zane Paul (with clarinet), Kalilah Allen, Jomo Amen-Ra,
Mama Lu Parks, Leonard Goines (trumpet), Frank Derrick, and Margo Blake
Middle: Candi Ya and Vangie Brown
Bottom: David Butts, Gloria Thompson, Kofi Asante, Debra Youngblood
(Margo0002.jpg)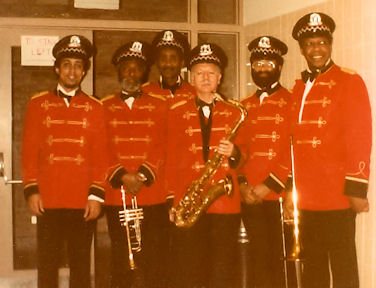 The Rudy Stevenson Band
(Margo0003.jpg)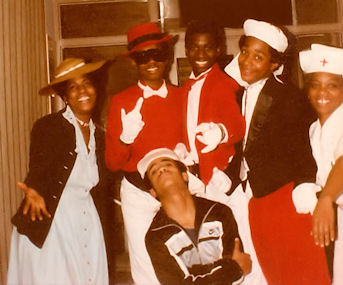 The Boogie Babies
Nana Korantema, Deon George, Leon Chesney, Ali Smith, Candi Ya
Freddie Almonte in foreground
(Margo0004.jpg)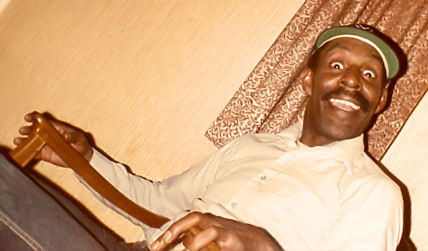 "The Righteous Reverend" David Butts
Buena Vista Motel, Delhi, NY
(Margo0006.jpg)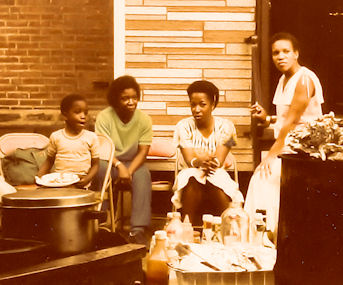 Connie, Betty, and Carol
at Company BBQ (following tour)
at Margo's House on Hutchinson Street, Philadelphia
July 1982
(Margo0005.jpg)
Margo had left the company to return to Florida by the summer of 1985,
but she returned for the Lincoln Center performances of Sweet Saturday Night.
We do not have a program for the August 6 through 10 performances.
The program we do have for August 31, covering for Les Ballets Africains, is from the company repertoire.
Margo is not listed in the personnel, but she was there dancing.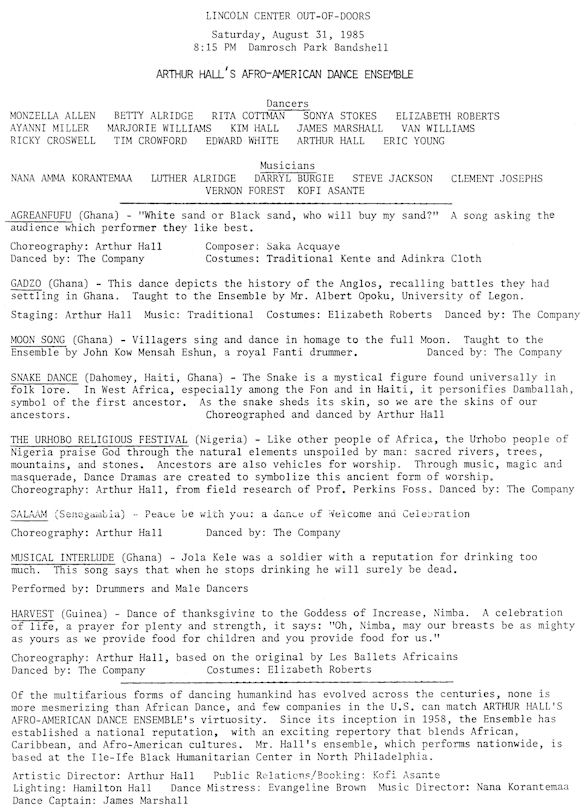 (Margo0018.jpg)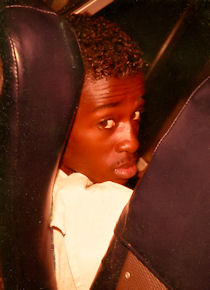 William Whitfield on tour bus (1980s)
William was Margo's dance partner.
They came together from Freedom Theater to join
the Arthur Hall Afro American Dance Eensemble.
(Margo0007.jpg)
Margo Blake's October 2011 donation of materials
including materials from 1982-1983
Ile Ife Newsleter
Original program from Dance Black America, April 1983
Other recent additions to the Arthur Hall Collection
Please address corrections or additions to Bruce Williams
or see Contacting us for street addresses
and additional email addresses