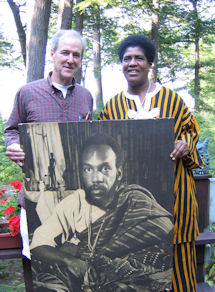 Ile Ife Films
The Arthur Hall Collection

754 Mount Ephraim Road
Searsport, Maine 04974

207-548-2445

Incorporated in 1994
Nonprofit, tax exempt, 501(c)(3) organization
Dedicated to the arts and education


Synopsis of the 2008 Annual Meeting
August 23, 2008, Belgrade Lakes, Maine

The meeting was called to order by the board president Bruce Williams shortly after 1:00 P.M.
Bruce spoke briefly about his conversations over the past two days with Nana Akomfohene Korantema Ayeboafo,
about how the Arthur Hall Afro American Dance Ensemble Alumni are now active again,
and about how he and Nana Korantema hoped that the two non-profits that Arthur Hall helped to found,
the Asona Aberade Shrine in Philadelphia and Ile Ife Films and the Arthur Hall Collection in Maine,
would be working together to foster a rebirth of Arthur's legacy through a project entitled

Renaissance on Sacred Ground.

Introductions | Meeting Narrative | Action Steps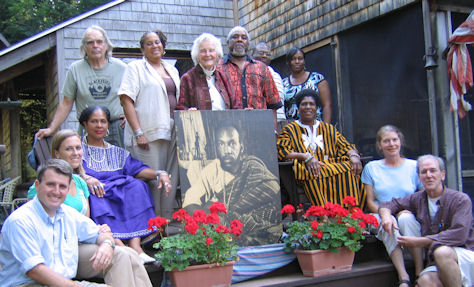 2008 - 2009 Board of Directors with family
Rob, Lucia, Ohemaa, Abbott, Anita, Joan, Kofi, Mike, Shelly, Nana, Patrice, Bruce

All those in attendance introduced themselves, proceeding clockwise:

Bruce Williams, president of the board of directors, began documenting Arthur's work in 1977.
He helped Arthur incorporate Ile Ife Films in 1994 and continues his stewardship of
the Arthur Hall Collection to this day.

Anita Canthorne accompanied her husband Kofi Asante as an observer.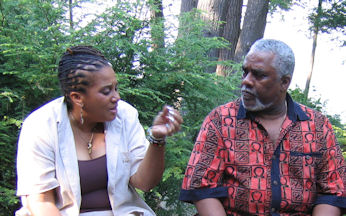 Kofi Asante is a newly elected member of the board of Ile Ife Films, and he is on
the council of StarSpirit International, the non-secular organization of the Asona Aberade
Shrine that sponsors cultural programs, tours, and productions. He is an alumnus of the
Arthur Hall Afro American Dance Ensemble and the executive director of the National
Comprehensive Center for Fathers and the deputy director of the Greater Philadelphia Urban
Affairs Coalition.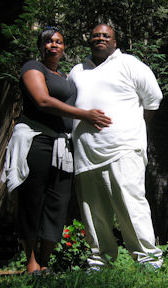 Lawrence Clark ("Big Mike," formerly "Little Mikey"), a newly elected member of the board of Ile Ife Films,
grew up at the Ile Ife Center and is a drummer and alumnus of the Dance Ensemble.





Lucia Chomeau Hunt, a newly elected member of the board and the clerk of the company,
is a practicing attorney working for Pine Tree Legal, a nonprofit, public service firm in Portland, Maine.
She is the only member of the board who did not know Arthur personally.

Nancy Meader, a potter, teacher, and singer, accompanied her husband Abbott Meader as an observer.
She took some of the photographs seen here.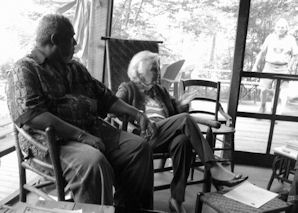 Joan Williams acted as the hostess for the meeting. She has been supportive of Arthur's work for many years
and has a long resume of community service, including volunteer work for Planned Parenthood
and serving on the board of Neighborhood Youth in South Central Los Angeles.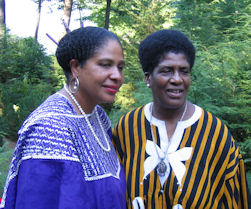 Dr. Barbara Wallace, Queen Mother of the Asona Aberade Shrine, teaches clinical psychology at Columbia University.
She acted as the volunteer secretary for the meeting.




Robert Bruce Hunt, a newly elected member of the board, is a high school teacher
with a master's degree from Columbia University in the administration of nonprofits. He
is a candidate for the Maine Legislature [Note: In the event, Rob is now a newly elected
member of the Maine House of Representatives, with nearly 53% of the vote in House
District 131 on November 4, 2008]. Rob has known Arthur since he was a toddler.
Arthur called him "Meathead Two." "Meathead One" is his older brother Evan.




Nana Korantema Ayeboafo, a newly elected member of the board and our new artistic
director, is the head of the Akan spiritual order in North America, the Akomfohene, a
title achieved only after decades of careful training and spiritual dedication. In 1968,
she joined Arthur Hall at the very inception of the Ile Ife Center in North Philadelphia.
At Ile Ife she became a master drummer, a rarity for a woman, and eventually Arthur named
her to be his music director. Nana traveled with Arthur on the Dance Ensemble's historic
1974 tour of Ghana, during which they were received by Nana Okomfohene Akua Oparebea, the
great matriarch of the Akan tradition. Nana Oparebea encouraged Arthur and Nana Korantema
to establish an Akan Shrine in Philadelphia. Three years later, the Asona Aberade Shrine
became the first traditional African shrine to be recognized by the Commonwealth of
Pennsylvania, and Nana Korantema has dutifully maintained it to this day. In 1999,
Nana launched StarSpirit International, Inc., a non-sectarian global cultural arts,
health education, and economic development initiative of the shrine. Nana has developed
an international reputation as a performing artist and as a teacher of drumming and of the
cultural arts. In recognition of her work, she recently received a prestigious 2008 Pew
Fellowship in the Arts. She writes, "Arthur was my first mentor. He gave me an ever so
rich experience of identity development, reclamation of African heritage, and intensive
training in dance and drumming. Arthur Hall and Nana Oparebea have inspired me to do
what I can to ensure the continuing dissemination of ancient African cultural traditions,
traditions that hold the power to heal, transform, and restore, traditions to which both
my two great mentors devoted their lives. With these goals in my heart, I am honored now
to be the artistic director of Ile Ife Films and the Arthur Hall Collection."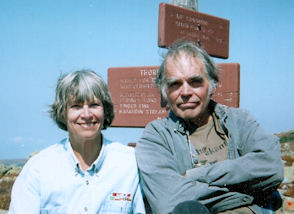 Abbott Meader, an original member of the board, is a painter, filmmaker, and
professor emeritus of art at Colby College.
Abbott was first camera for the production of Snake Dance Teacher Dance
and actively supported Arthur's work in Maine from the beginning.
Abbott's paintings hung on the third floor of Ile Ife Center for many years
and now greet visitors to the Asona Aberade Shrine.
nbmeader@colby.edu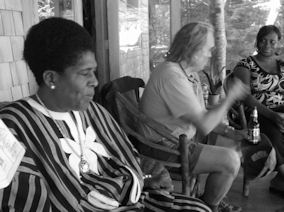 Shelly Clark, Mikey's wife and an accomplished musician, recorded the meeting with a handheld camera.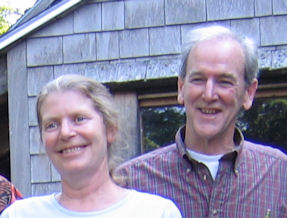 Patrice Janssen, an original member of the board and our original and continuing
treasurer, teaches agriculture at the Waldo County Technical Center. In 1998, she was the
Vocational Teacher of the Year for the State of Maine. She began dancing for Arthur over
twenty years ago at the Belfast Dance Studio and has performed for Arthur as a company
member, as a soloist, and as a concert manager. As Bruce says, "But for Patrice, there
would be no Arthur Hall Collection here in Maine."
patrice01@prexar.com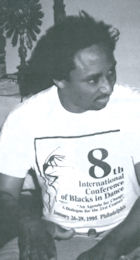 Daryl Kwasi Burgee, a newly elected member of the board, was unable to attend the
meeting due to conflicting engagements. Kwasi is among the preeminent drummers of
Philadelphia. An alumnus of the Dance Ensemble, he traveled with Arthur and Nana
Korantema during the historic 1974 tour of Ghana.


Meeting Narrative

Bruce distributed a preliminary budget for preserving, archiving and insuring the
accessibility of materials in the Collection. The costs were based on his talks with
Northeast Historic Film (NHS) of Bucksport, Maine, a nonprofit organization dedicated to
film preservation. The board of directors was schedule to tour NHS the following day
(which we did, August 24). Costs included making Beta-SP preservation masters of
threatened or obsolete video formats and two DVD viewing copies. Bruce mentioned that
Abbott already stores his films in the NHF climate-controlled vaults.

Abbott discussed how we were lucky to have such a good facility so nearby and how we had
one of the best cinemas in the nation even closer to hand. Robert Redford and the
Sundance Foundation had chosen Railroad Square Cinema (RR2) of Waterville as one of the
twelve best art cinemas in the US. Bruce mentioned that Arthur had danced at the
renaissance of RR2 after the original had been destroyed by fire and that in fact Arthur
had been involved in the creation of the original RR2, helping select army surplus
projectors that were used when the moviehouse first opened.

Abbott said that the camera originals that would be preserved could be seen by the public
or researchers, but typically they are not. Abbott talked about having his films stored
at NHF free of charge. Bruce said that the Collection would require more cubic footage
than Abbott's films and that NHF offers a 15% discount for nonprofits. Nana said that the
projected annual storage fee was quite reasonable.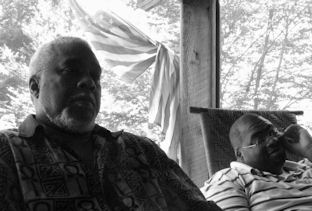 Bruce then spoke about producing DVD editions of existing works.
Snake Dance Teacher Dance and Orisun Omi could be published immediately, given an adequate budget.
Ile Ife House of Love and Fat Tuesday and all that jazz would need permission from their producers.
Arthur Hall's Obatala and Tche Tche Kule: Arthur Hall's exercises for kids need more time in editing, and
Obatala might be expanded with some additional narrative.

Abbott questioned how quickly DVD editions could be produced and stressed the need for
high quality. There are problems with some DVD's jamming or not playing, and there are
problems with changing technologies. Bruce said that Huey and the staff at NHF were all
knowledgeable about current best practices.

There was a lengthy discussion about technical aspects of preservation and distribution.
Kofi emphasized the need for a short DVD that could be used in fundraising. We discussed
what needed to be done to make such a DVD. Bruce discussed monies available just for
preservation. Bruce spoke of a recent donation of a digital editor that might be used to
create a master for the DVD, perhaps starting with Obatala. [Note: In the event,
the old Avid editor does not work.] Kofi reiterated the importance of making a short
trailer for use in fundraising, just a 7-10 minute piece which would give some indication
of the depth of the Collection.

Kofi talked about putting a value on the Collection, saying it is akin to equity in a house
and could be used as matching funds.
[Note, in our tour of NHF the next day, the staff there said they could provide a letter
assessing the value of the Collection.]
Kofi talked about the politics of grants coming out of Maine. We need letters of
recommendation from all the producers in Maine, in California, and from influential people
who know and value Arthur's work. The goal is to use letters in such a way that potential
funders in Philadelphia are assured that the interest in the Collection is national and
international. Additional letters of interest should be requested from libraries, schools,
and universities who have already acquired materials from the Collection. Kofi discussed
how granting foundations are interested in capacity building and sustainability and how
the Collection could support projects to stop violence, etc. The Pew Foundation as a
potential funder was discussed, building on Nana Korantema's recent award of a 2008 Pew
Fellowship. Pew is doing international work and could look favorably on a request from
Maine supported by Nana, someone they already know. Kofi's recommended game plan was
discussed at length, and the budget for the needed work began to take shape.
[Note: On Monday, August 25, Bruce filmed Nana for the short film, providing the
narrative backbone for the trailer, with the collaboration of Kofi and of Dr. Wallace.]

We agreed that letters of support could be addressed either to Ile Ife Films and the
Arthur Hall Collection or to Asona Aberade Shrine, Inc., and donations could be made to
either nonprofit as well. That would allow benefactors to have an option. In this way, we
emphasize the importance of each of the two non-profits that Arthur helped to found.

Names for letters of support were discussed. Kofi suggested that letters of support be
addressed to Bruce Williams as president of Ile Ife Films and the Arthur Hall Collection.

Kofi talked about the need for a timeline. The first step is to create a proposal and an
overall package that contains the 7 to 10 minute DVD trailer and the letters of support.
[See Action Steps, below]

Production of the trailer DVD was discussed further. Bruce talked about a similar sample reel
he had already produced for Arthur's proposed thirty year history of the Dance Ensemble.
He talked about using clips from an audio interview with Arthur, some dance clips, images
from the workshop and the reunion performance in Philadelphia, and from Arthur's work in
the schools. Abbott suggested we could work with Huey, who is doing a film on jazz
pianist Marian McPartland. Kofi talked about making a relatively cost-free package.
"We want these dollars to reproduce for educational purposes, for a training center."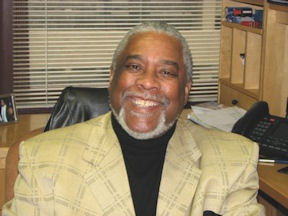 We again discussed strategy and budget. Kofi proposed the following bottom line: Bruce
needs $50,000 to administer the preservation and production work for the first year.
Kofi stressed that it is key to ask for what we want at the correct dollar amount.
He suggested another $50,000 for preservation materials and laboratory work, an adjustment
to Bruce's figures. He recommended an additional $70,000 for production and marketing,
including materials and a salary for a marketing director, and $40,000 to support the
programs of the Alumni. Finally, Kofi recommended we calculate administration costs at
15%, producing a provisional 2009 budget of about $241,500.

Abbott then wondered if we could get Colby College involved in the project. He will
inquire.
Bruce mentioned several other names and institutions, including Rowland Abiodun at
Amherst College, who were already supporters and advisors to the Thirty Year History
Project of the late 1990s.
Nana mentioned the goal of taking the trailer and setting up meetings with people that we
know would contribute, taking it before audiences.

We discussed the importance of both preserving Arthur's legacy and insuring that the Alumni
continue teaching it. We discussed the importance of giving credit where it is due, how
Arthur was always careful to honor his teachers and to articulate how elements of his work
were taken from various places and forms from around the world. On the other hand, Kofi
mentioned several examples of Arthur's not getting credit for some of his ideas that have
had a lasting impact on Philadelphia - the Please Touch Museum, The Avenue of the Arts,
Odunde, the exhibition of Ghanaian gold, the African Village neighborhood, and his work with
the Philadelphia Museum of Art to increase arts patronage. The point is that Arthur Hall
and the Ile Ife Center for the Humanities led to the creation and strengthening of many
venues that are still making millions of dollars in Philadelphia and beyond. Our goal should
be to articulate Arthur's genius, how he attributed the essential elements of his art to
their sources and used them to create a new culture and a contemporary art that has had a
lasting influence in Philadelphia and beyond.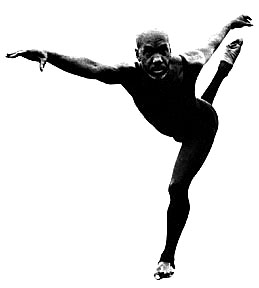 Action Steps

Kofi and Rob will work on the business and marketing plan, and will create the framework
for the proposal with Lucia's help.

Bruce and Nana will work on the sample DVD, with help from Patrice and Abbott.

Abbott will inquire at Colby College about institutional support there.

Kofi will draft a form letter based on a one page concept paper to be used by the various
directors to request letters of support. [Note: Kofi's draft is the five-point action plan
articulated on the main page of www.ileife.org] Kofi
suggested that the Maine mailings include people from academia, government officials
(local, state and federal), and anyone prominent in the religious community.

Nana and Kofi will complete plans for the dinner, traditional African Outdooring,
and concert at Philadelphia Community College on December 13, 2008.

The nine members of the board were elected to another term of service.

Nana Korantema was named as artistic director.

Nana Korantema presented Bruce with copies of her books, Celebrating the Life of Nana Okomfohene Akua Oparebea
and Tigare Speaks, and her CDs, The Greatest Love and Alignment,
in gratitude for his dedication to Arthur's vision for over thirty years. Looking forward,
Nana also made a donation of $500 to the Arthur Hall Collection.

The meeting adjourned for a dinner of African peanut stew which had been prepared earlier
by Nana with Bruce's help.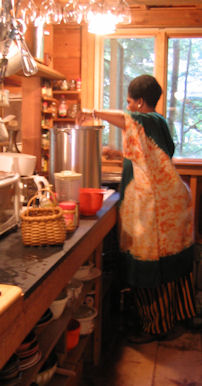 Based on the contemporaneous notes of Barbara C. Wallace, Ph.D.
Nana Ohemaa Agyiriwa, II, the Abradehemaa

Last update: 5 November 2008
Return to Homepage